3 Comfortable Bedrooms
Bed rooms, often forgotten. We have 3 comfortable bedrooms in our apartment. A master bedroom, a guestroom and a
children's bedroom. And we like a good night sleep as well. Therefore good beds and great pillows.  
The Master Bedroom is located on the West-side, directly to the garden.
It has a comfortable double bed, enough closetspace. This is also where
the little office space is located.
Sometimes it is unavoidable; you have to work a little bit. We like a
professional workspace as well. A nice dock (USB-C, e.g. Lenovo), full
keyboard, monitor. It allows you to be efficient.
As good internet is also very important, we have 100Mb cable internet from the local internet provider. In the apartment you will find a small instruction card how to connect to the WiFi.
The coverage of your access point does include the balcony and the garden. So although you should relax, access to world is guaranteed.
For your USB devices, we have on the desk wall plugs and USB charging stations. So all you need.

You can also use the PC on the workspace. The keyboard and the mouse are in the little drawer below. Please switch them off after usage. The next guest will appreciate it.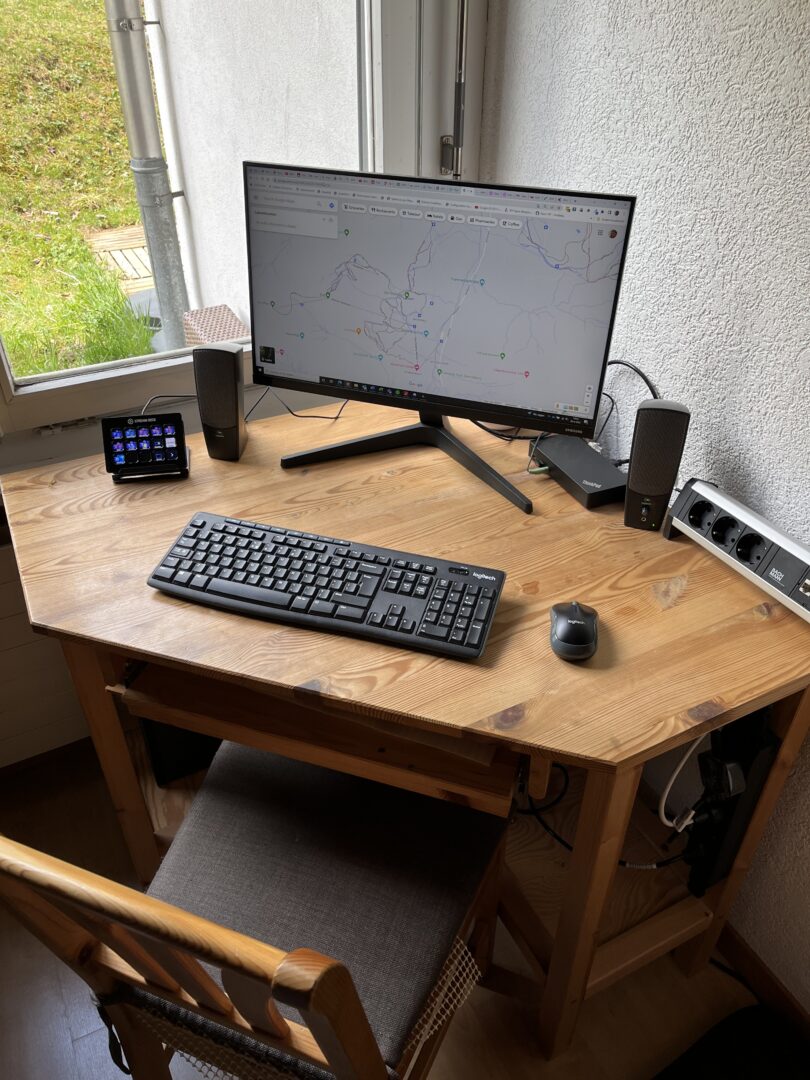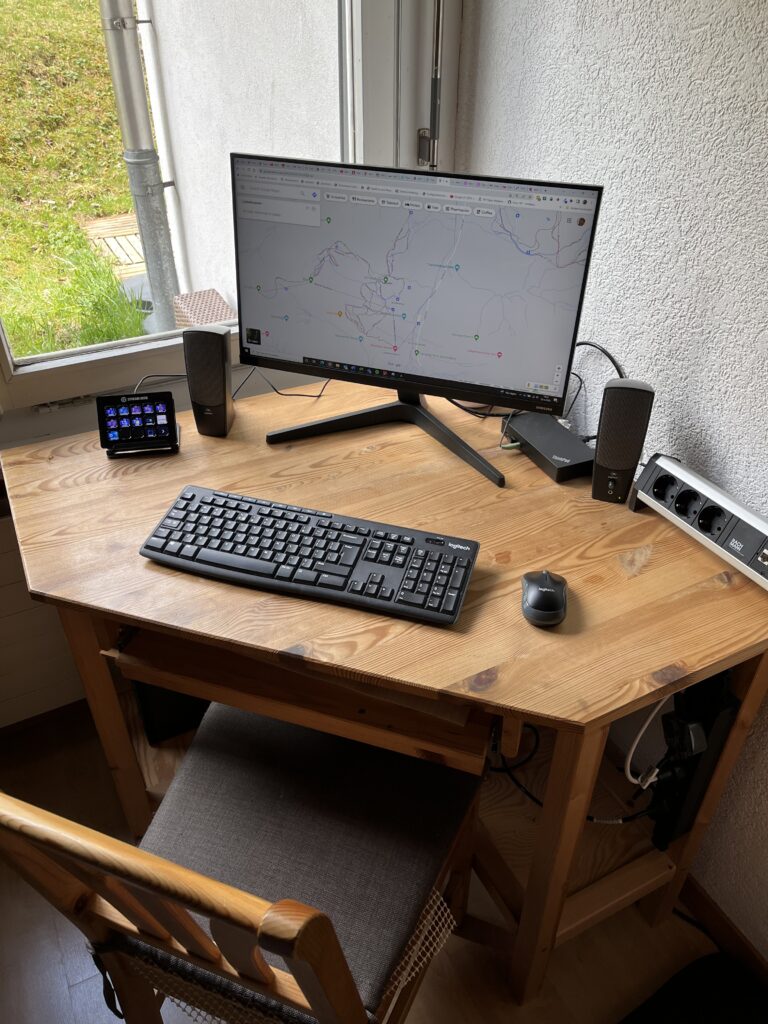 The guest room is on the East side. It is one of our 3 comfortable bedrooms. This room has two seperate beds, next to
eachother, but can be seperated. The beds are a little bit higher for a
comfortable usage.The room has a spacious closet. This room is directly to the living room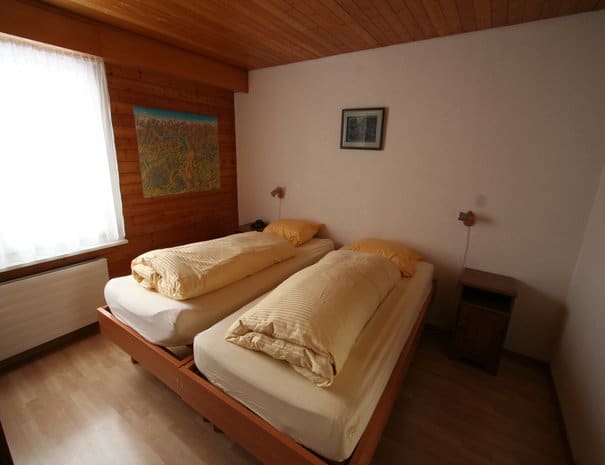 The children's bedroom has a bunk bed and a separate bed. In the room is
also a closet. This room gives access to the terrace on the back side.
It is also access to the garden and the lounge set. The garden is the little extra bonus of our apartment.
We did not realize it really when we bought our apartment. But a nice little garden is great. After a hike, enjoying a refreshment in the privacy. In the afternoon this is the sunny side.
In the summer it is ideal also for having dinner outside. It is a quiet and you have sufficient privacy. A barbecue is available.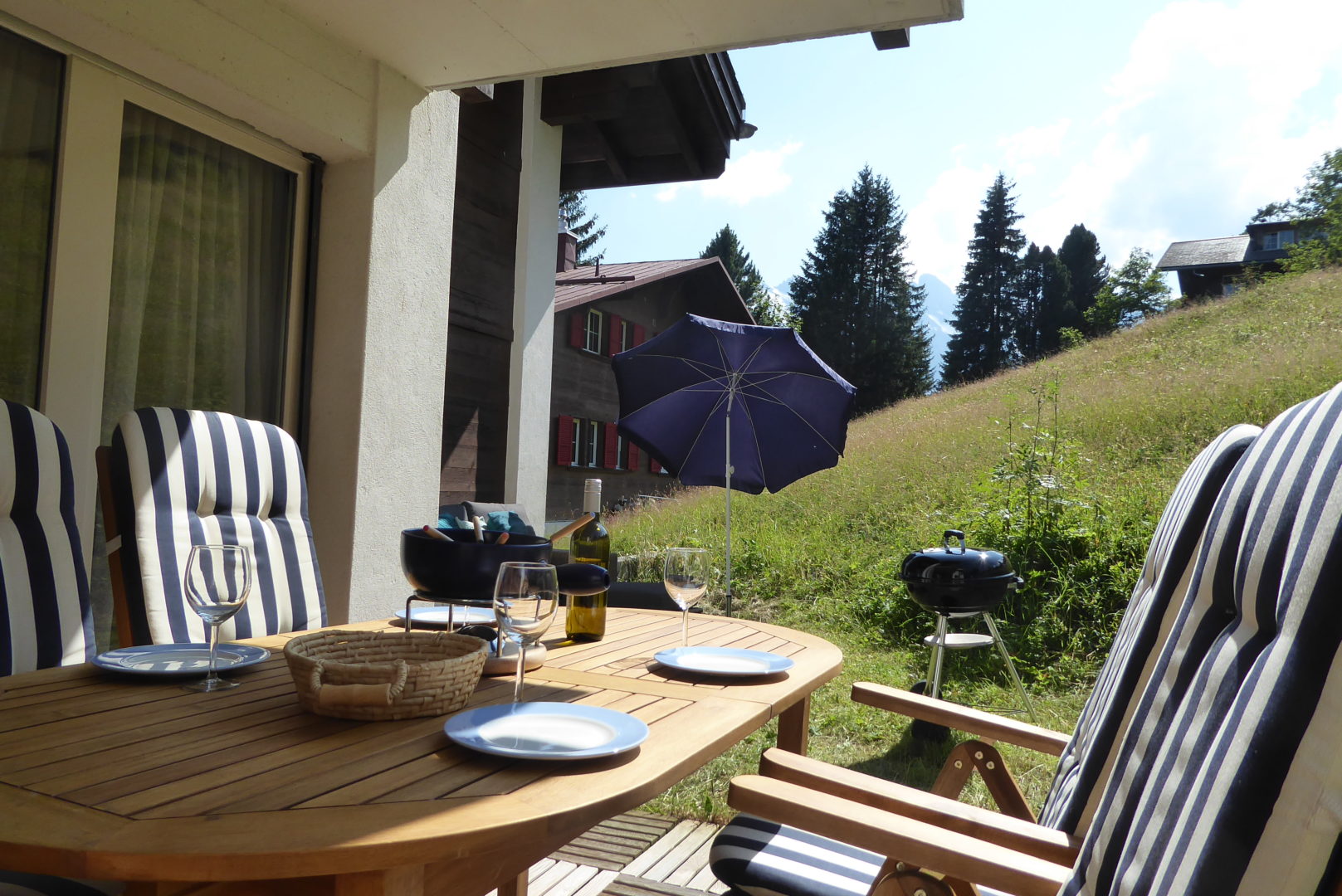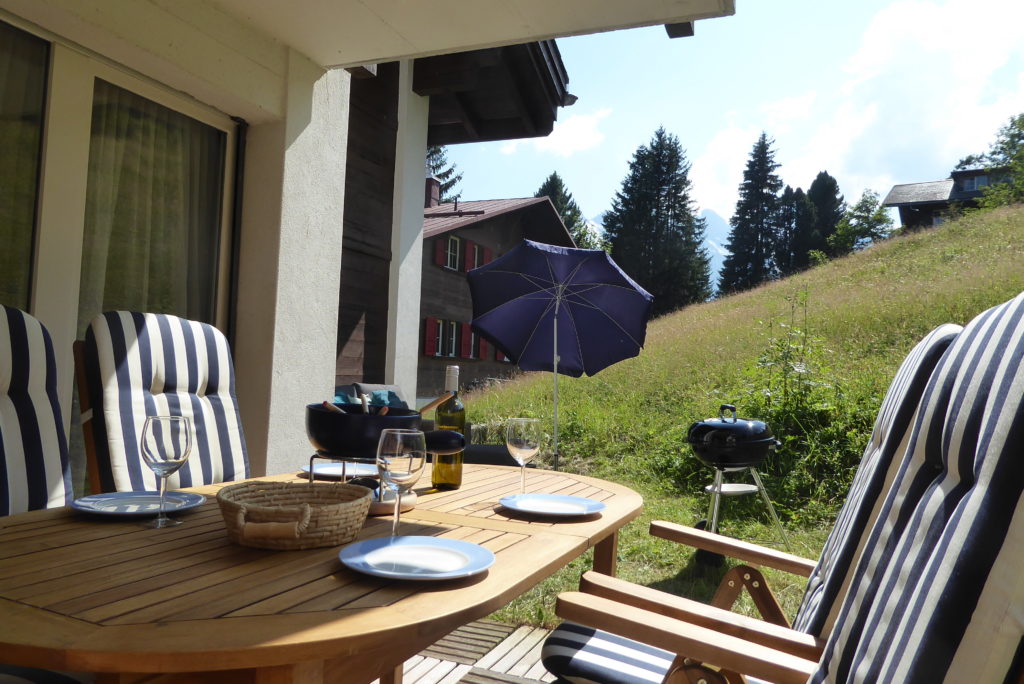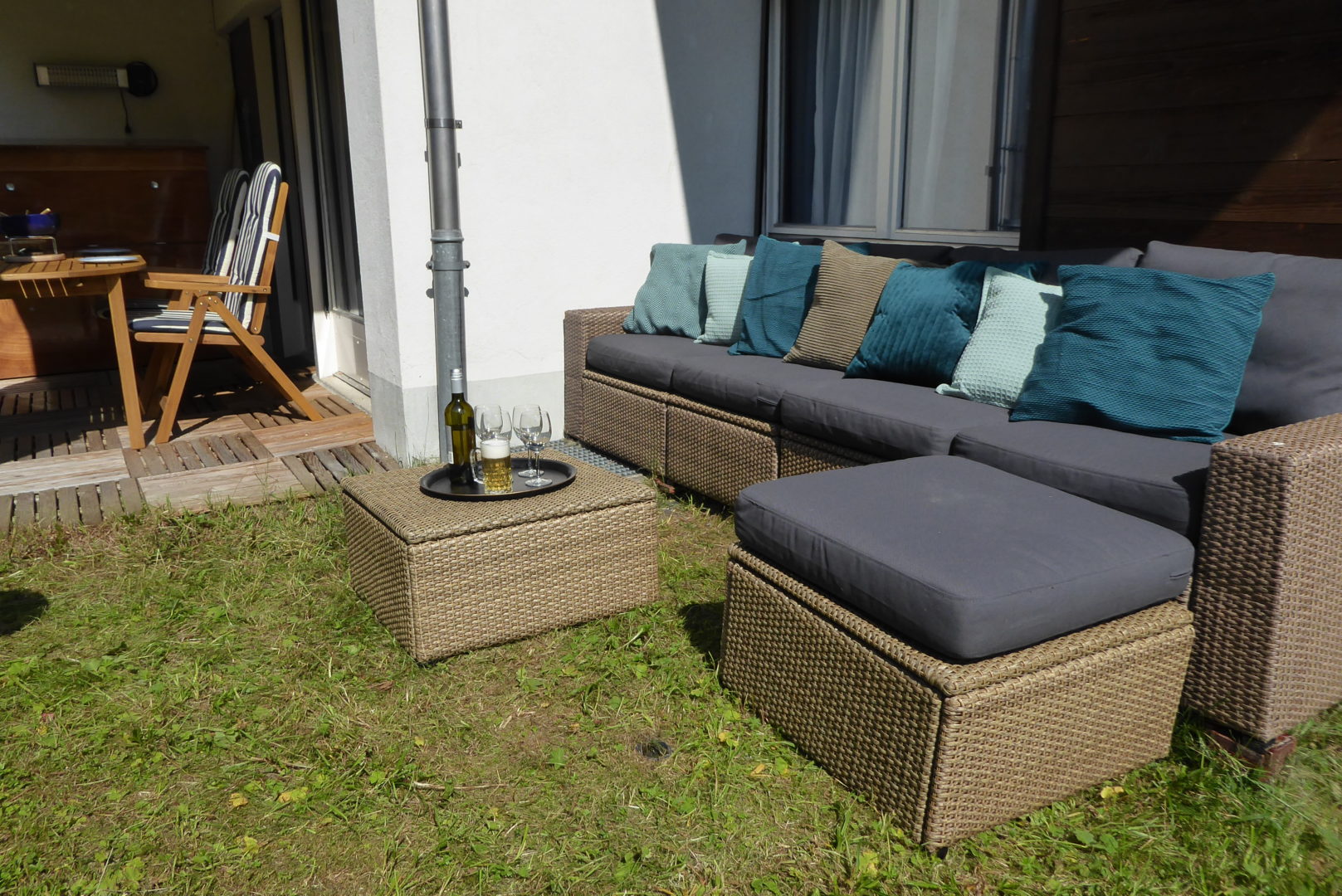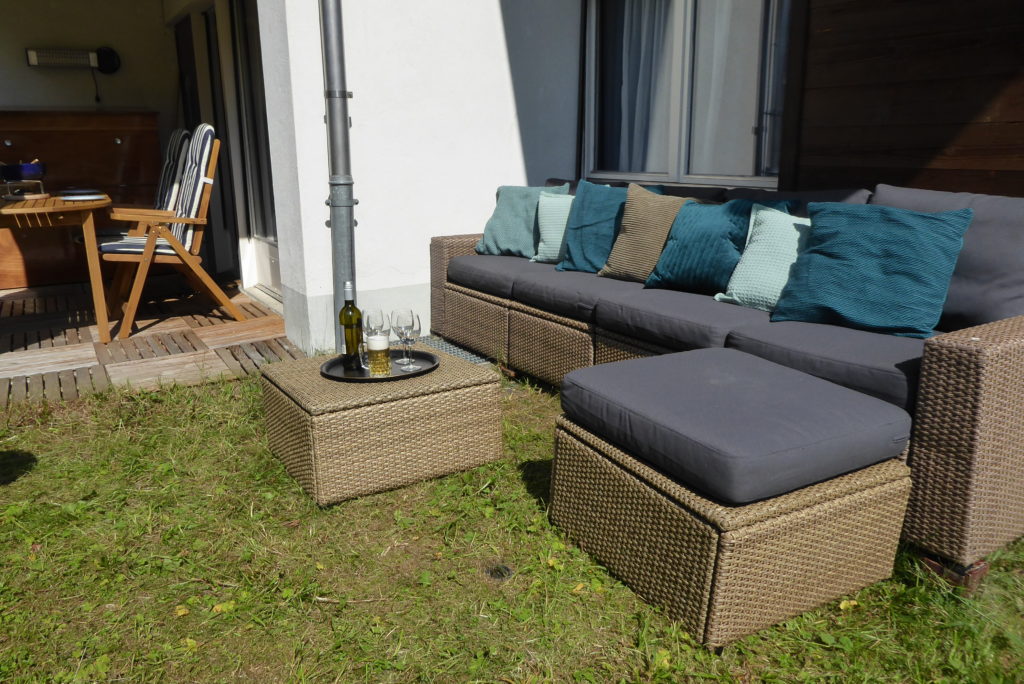 And if you just want to relax with a book,.. The lounge corner is ideal for you.
As our garden is on the west side, you have the afternoon sun in the garden and lounge, until it sets behind the mountains.
You will find the cushions in the cabinet outside. After usage you are kindly requested to store them there.